Better
Joe
Assuming that my last review still isn't up I'll write a new one and make note of some changes. The rocker combo and long wheelbase on this board make it ideal for a freeride oriented setup. At and above 40 things start to get a bit wobbly due to the slight flex but with the right setup you'll be fine going faster. The setup is key though and until I found the proper bushings this board was unbearable. I had been running barrels and soft cones as well as double barrels, double cupped and cupped and flat respectively. The double barrel was good for speed and kept stability in the necks for pop. Under 25 it felt terrible though. Barrel/ cone had no stability and still couldn't handle at low speed and took all the pop and stability out of the kicks. Double barrels on flat washers is the trick in my opinion. Lively at low speed and stable at freeride speed, best of all the phenomenal pop is back, kickflips are seriously no problem to spin around. For a reference point I'm 175 pounds and am running 86a venom SHR's boardside and orange nipples roadside on 50* trucks. One star off though because the durability on the corners is wretched.
Questionable
Joe
It's stable up to 40 and above if you have it set up right, the drawback though is you need a fairly speed oriented setup to get the proper pop. The pops great by the way on double barrels, super easy to flip and throw around. If you run it on cones though like you might expect from something marketed as an urban freeride board it loses most of the stability in the neck and fails to have that snappy pop. The wheelbase is a bit long as well for something oriented to the city. Add in the rocker which is presumably for LDP and faster freeride it gets even harder to slide at lower speeds and hinders the carving aspect of the already long wheelbase. It has a slight bit of flex as well. This is getting a bit long but the rails won't hold up at all if you use this for freestyle. If the flex was removed you'd probably end up with a solid downhill board but overall it's a mixture of elements that doesn't really excel at anything except an extremely niche environment of riding between 20-30 mph nonstop.
A dream
Jeff
this is an outstanding board that really can do everything. the micro drops feel perfect under my feet and really locks your feet in well. the board is a little heavier than i thought it would be for free style but it is still a breeze throwing no complies, bigspins etc. DO NOT HESITATE. get this board!
Absolutely Amazing
Jordon Phommyvong
I've had this board for quite some time now and it has outlasted most other boards I've ridden. It pops, it's stable, it's pretty much versatile. This is one to definitely keep once you've acquired it.
A board that does it all.
Gonzo
Yeah, you can freestyle, slide, and even go 50mph and still feel stable on this one. standups are amazing you got absolute foot lock fast, with caliber .50 and awgs or flashbacks ,the response is very fast and predictable, and the quality is good, it takes bumps very well. It´s my 9th board, and it´s the best setup I had yet.
Best board out. Love it.
Jack
Had this board for about a week and a half now, and - WOW - I absolutely LOVE it. So versatile. The kicks are great, not to high to get in the way but just right to pop whatever trick. The board is light, stable and really comfy to ride (especially with the rad concave/drop down part next to the trucks). All-round, great board.
Bustin Boombox Is Amazing, Surpassed Expectations
Waldo Broodryk
I just received my first Boombox last week, I've had the opportunity to take it out to Branson and hit a top speed of 45 mph on it and it felt more stable than my Evo with a half in khiro riser, Paris trucks flipped, purple nipple bushings, ABEC 11 Freeride 81a 72mm centerset wheels and seismic bearings. It honestly rides like a dream, it might be a little high off of the ground, but I have so much control over the board, I can rock stand ups in any direction and even extended ones. Manuals are a breeze on this. My first night with the board I nailed my first nose manual to shove-it on maybe my third try and I'd never been able to do it before, any type of flat land tricks are really easy on this board because it's surprisingly light. Though it's ridiculously sturdy and absolutely amazing for slides. The Grip on this board is unlike any other I've had the chance to ride on. It's like gator grip + vicious + rubber, it's super grippy but doesn't destroy your hands when you do ice-picks or early grabs. It's extremely predictable and amazing for doing really long slides because the concave/strange concave over the wheel wells give you something to lock your feet into and I was doing 150 foot slides with my hands down and my feet felt glued to the board at 40 mph going sideways! I love the board and will be posting a video soon of this past weekend. It rides amazing and will recommend it to any level of rider that wants to have an awesome time on a board! Whether a beginner or expert, you'll love this board! :)
USA ShIPPING                                        [Click Here for International Shipping]
free shipping ON EVERYTHING

Free shipping is available on all orders shipping to the lower 48 states. There is no minimum order size. We ship bigger items such as longboards and snowboards with UPS Ground. Smaller items like wheels and trucks ship with USPS Priority Mail.

FAST shippinG guaranteed
Orders ship within one business day. In fact, over 90% of orders placed Monday-Friday before 3pm EST ship the same day. Check out our Fast Shipping Guarantee

Shipping methods
We ship with UPS and USPS. Bigger items such as longboards and snowboards ship with UPS.  Smaller items such as apparel and wheels ship with USPS.

SHIPPING TIMES

Free Shipping

<![if !supportLists]>· <![endif]>2-3 business days in transit for small-item orders.(trucks, wheels)

<![if !supportLists]>· <![endif]>1-5 business days in transit for bigger items such as longboards and snowboards. (West Coast 1-3 Business Days; Central U.S. 3-4 Business Days; East Coast 4-5 Business Days)

<![if !supportLists]>· <![endif]>2-8 business days for super small stuff. (bushings, bearings)

If you would like faster shipping, we also offer several expedited shipping options.

MILITARY ADDRESSES
We ship USPS mail to APO and FPO addresses. Please click "checkout" and input your shipping address to receive a shipping cost. You can expect see your order in 7-10 business days.
UPS GROUND TRANSIT TIMES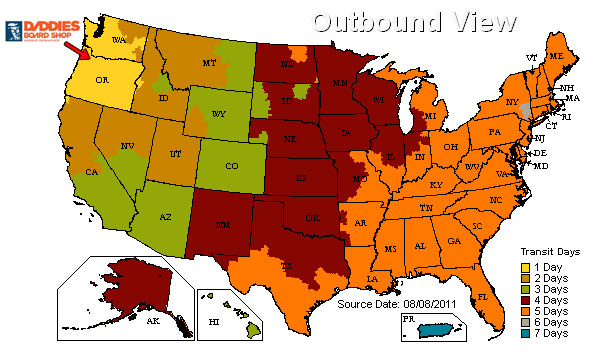 This map is a general representation of UPS Ground transit times from our Portland, OR location.
Holiday and weather events can impact actual delivery times so watch your tracking number!

Free shipping is available on all orders shipping to the continental United States. There is NO minimum order size. We apologize to our dear friends in Alaska and Hawaii for not being able to ship to you for free. See here for details.

99.9% of all orders ship out within one business day! In fact, over 90% of orders placed Monday-Friday before 3pm EST ship out the same day. These are not just pretty words. We stand behind this commitment with our Fast Shipping Guarantee.

Here's the guarantee: if we don't ship out within one business day, we will give you 10% off your order. See here for details.

The readers of Concrete Wave, the leading longboard publication, generously named Daddies the best online longboard shop of 2012. And we didn't even have to bribe them!

Daddies has a few other feathers in its cap. We have been an Inc. 5000 Fastest Growing Company in the United States for the last three years and a Portland Business Journal Top 100 Fastest Growing Private Company for the past five years (our home is in Portland, Oregon). Our goal with all of this fast growth is clear: world domination! Well, that and being in the Guinness Book of World Records for the longest fingernails.
We price match. And we'll give you 5% off for doing it.

We want to give you the best prices and best customer service. We know that nobody ever, ever, ever beats our customer service. But, we're also going to take care of you if someone dares to try and beat us on price! See here for details.