DAMN
justin
i had zombie hawgs 82a then i got these in 83a these things and i herp derped
Decent
DeBen
Noisyest wheel I've had yet. I thought too high of these wheels and I was a little disappointed. It's really unpredictable but still a decent slide wheels. If u want a quiet buttery slide get some butterballs or abec 11 classic thane formulas for the cheaper price
Great wheel
Longboarder
I have these and I did a review a while back and said they're great but I rode the danos downhill wheels and they're only 35$ and almost as good. These wheels are really, really good but just not worth $50 when you can get the danos for 15$ less.
good & bad
Flipsidelongboard30 --> Youtube
Befor I've ride O'tang Balut 86a that was good on slide but broke the core...These wheel are the same but they don't broke at all. They're nice at the begining but after 2-3 session i've try some long standies and after like 5-7 meter they grip a lot and I fail. I thinks if you don't go enought fast they won't slide the same on all of you're slide and slow you down. just practice a lot and fast and they wont be like that :)
Pretty Good Wheels (pt. 2)
Mateo
Oh, and one other thing: I'm disappointed with the thane on the 80as. It leaves thick lines, but they're dark orange and you can hardly see them. I prefer bigger, chalkier thane.
Pretty Good Wheels
Mateo
Well, I got the 80a wheels a few weeks ago, and I can safely say I'm satisfied. They're not "perfect" but I really do like them. Some pros: they slide really easily, but maybe a bit too easily. I almost iced out once on a standy, and I'm finding it harder to hold out standies sideways as opposed to my last set of wheels (bootleg 84a). They don't slow you down much when you slide, which is good and bad I guess, but once you get used to them you can do all sorts of ground slides on them relatively easily. They turn really well (probably because of the 35mm contact patch) and they are a pretty fast set of wheels. All in all, worth my money.
MAN LISTEN!
Horacio
KEEPING IT SIMPLE... THIS WHEELS ARE DOPE!!! THEY SLIDE SOOOOO SMOOTH EVEN ON BAD PAVEMENTS,EASY TO PUSH OUT AND CONTROL SLIDES, AND LAST BUT NOT LEAST YOU DON'T ICE OUT. THEY ARE FREAKING DOPEE! GO GET THEM!
incredible
kyle
these wheels are awesome, i originally had orange durians, and just bought these a week ago and i gotta say they are great. i put them on my dervish same and the results are fantastic! they slide like butter right out of the box! if ur looking for great sliding freeride wheels i defiantly recommend the morongas (83a)
Good Freeride Wheel
Dom
A great wheel... but they do cone quickly and make noises when sliding.
great wheels
thesolman
i just got the 83a and right away they we great, they slide very well
and i havent worn muck at all. They get a little niosy what sliding at low speed but other then that fantastic.
These wheels are cool
L0NGBO4RD3R
They slide nicely, Plus they are centered which make them last way longer. &&& they're also light, get them
baaaaaaaaaa
awesomeswaggerboat
i ride the 83a on my vandal and i do standys that are so big even ron jeremy is jelous. took these puppies out to some hills and i loved them. only downside is that before they are broken in, they are really really really slidey and will slip out when you slide around 30. i let my friend break them in for me because im to big of a bitch but i love them.
Purple 83a
Basedpenguin
I got thees with my Paris V2s on my DiamondDrop and it's lovely.
great sliding wheel
will
get the purples!!!!!!!
Better than hawgs
Kyle
I had 80a hawgs, but then got a 80a pair of these, and I was all lik
e dhjskfjsjfijdis kg jsif SO AMAZING!
rad
NateP
just put these on my rayne Nem....Haven't broke them in yet, but will post a review as soon as i do.
awesome wheels
mexican
Put these wheels on my chubby unicorn. They're awesome wheels. Slide nicely, still noisy, but you get past that.

Get the orangatang moronga's
Good wheel
Tony
These are great freeride wheels I have the 86as the weird thing is how good they are for carving. If you don't want these wheels to slide, they won't.at least not at high speeds.(under 15mph about) also these wheels will slide when you want. Very well actually. They did take a day to fully break in. Or I was just getting better. (I learned how to slide on these wheels.) these are definitely worth it. Uh also these slide differently then other wheels. So you might have to get used to them.
Only downside is small. There just really, really loud when you slide them. Oh yeah and they cone so when they do, flip them. Rides really smooth, very predictably, great hookup, awesome slide wheels get them.
dope af
abe
cool name. moronga. i like that
Nice
Jordan
These wheels put off a pretty nice slide. slightly noisy, though.
Moronga!
.
looks pretty gnarly! Definatly preordering
USA ShIPPING                                        [Click Here for International Shipping]
free shipping ON EVERYTHING

Free shipping is available on all orders shipping to the lower 48 states. There is no minimum order size. We ship bigger items such as longboards and snowboards with UPS Ground. Smaller items like wheels and trucks ship with USPS Priority Mail.

FAST shippinG guaranteed
Orders ship within one business day. In fact, over 90% of orders placed Monday-Friday before 3pm EST ship the same day. Check out our Fast Shipping Guarantee

Shipping methods
We ship with UPS and USPS. Bigger items such as longboards and snowboards ship with UPS.  Smaller items such as apparel and wheels ship with USPS.

SHIPPING TIMES

Free Shipping

<![if !supportLists]>· <![endif]>2-3 business days in transit for small-item orders.(trucks, wheels)

<![if !supportLists]>· <![endif]>1-5 business days in transit for bigger items such as longboards and snowboards. (West Coast 1-3 Business Days; Central U.S. 3-4 Business Days; East Coast 4-5 Business Days)

<![if !supportLists]>· <![endif]>2-8 business days for super small stuff. (bushings, bearings)

If you would like faster shipping, we also offer several expedited shipping options.

MILITARY ADDRESSES
We ship USPS mail to APO and FPO addresses. Please click "checkout" and input your shipping address to receive a shipping cost. You can expect see your order in 7-10 business days.
UPS GROUND TRANSIT TIMES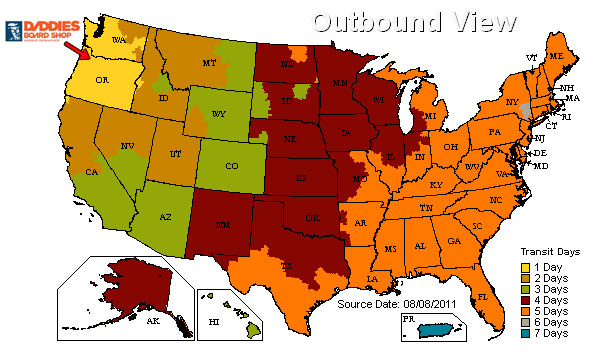 This map is a general representation of UPS Ground transit times from our Portland, OR location.
Holiday and weather events can impact actual delivery times so watch your tracking number!

Free shipping is available on all orders shipping to the continental United States. There is NO minimum order size. We apologize to our dear friends in Alaska and Hawaii for not being able to ship to you for free. See here for details.

99.9% of all orders ship out within one business day! In fact, over 90% of orders placed Monday-Friday before 3pm EST ship out the same day. These are not just pretty words. We stand behind this commitment with our Fast Shipping Guarantee.

Here's the guarantee: if we don't ship out within one business day, we will give you 10% off your order. See here for details.

The readers of Concrete Wave, the leading longboard publication, generously named Daddies the best online longboard shop of 2012. And we didn't even have to bribe them!

Daddies has a few other feathers in its cap. We have been an Inc. 5000 Fastest Growing Company in the United States for the last three years and a Portland Business Journal Top 100 Fastest Growing Private Company for the past five years (our home is in Portland, Oregon). Our goal with all of this fast growth is clear: world domination! Well, that and being in the Guinness Book of World Records for the longest fingernails.
We price match. And we'll give you 5% off for doing it.

We want to give you the best prices and best customer service. We know that nobody ever, ever, ever beats our customer service. But, we're also going to take care of you if someone dares to try and beat us on price! See here for details.